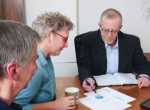 Cognizant Wealth Advisors provides close, personalized guidance to individuals and families to help you attain financial independence and retirement peace of mind. We assist you in developing financial plans and making informed investment and other financial decisions that support the myriad goals you have for your life. Can you recall a time in your life when you felt exceptionally care-free? It's likely you weren't worried about your financial situation. Our goal is to help you recapture that feeling by discovering and making the right choices today that will lead to financial security in the future.
We are different from traditional commission-based investment advisors in several ways:
As a fee-only financial planning firm, we do not receive any commissions or incentives to sell any products. All our advice is impartial and in your best interest.
We do not make investment decisions for you. Our role is to educate and inform you about the financial choices best suited to your unique goals and circumstances. We are not a hedge fund.
We care about you! We are not a large brokerage company offering standard products to thousands of clients. We get to know each of our clients well enough to help you with your unique needs.
Considering changing jobs?  Going through a divorce?  Inheriting money?  Receiving company stock or options?  All these situations require making numerous choices that can have a huge impact on your future.  Let us help you make the financial decisions best suited to your unique goals in life.  If you're looking for a financial planner in Palo Alto, Los Altos, Mountain View, Menlo Park, Cupertino, Sunnyvale, or anywhere in the San Francisco Bay Area, please contact us today to schedule a free consultation.