What To Do About The Exploding Cost of Higher Education?
Below are two charts that will probably astound you, courtesy of Jill Mislinski at dshort.com. The first compares the increase in the cost of college with the increase in the Consumer Price Index, the cost of medical care, and the cost of a new car over the last 41 years. While medical costs have risen at almost two and a half times the rate of inflation, the cost of college tuition and fees has exceeded inflation by more than four times!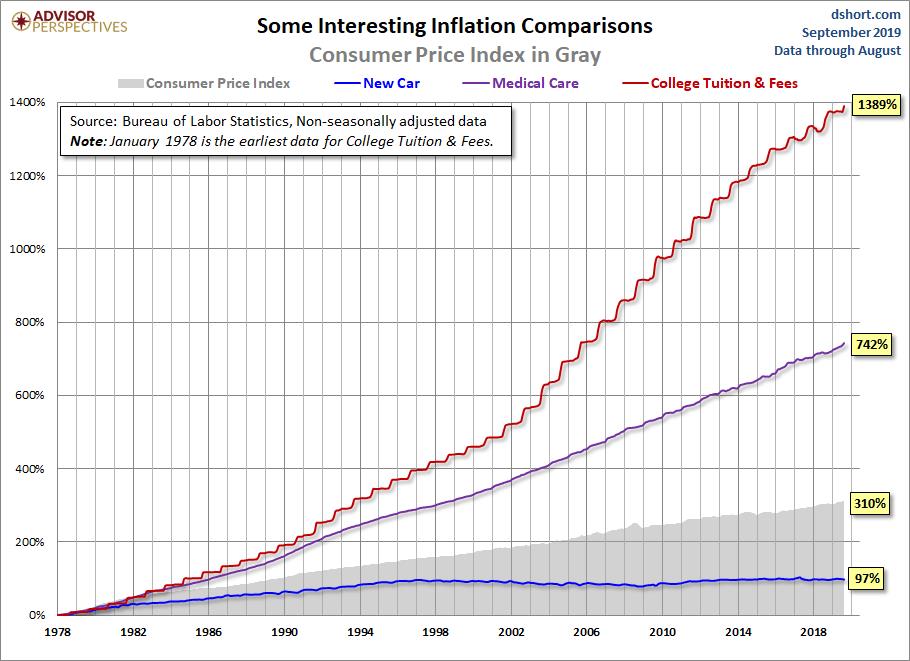 From the chart you can see that from 1978 through the early 1990s both higher education and medical costs grew at about the same rate (double that of inflation). During the next decade college costs began ramping up faster, and beginning in the early 2000s started to increase at a meteoric rate.
What drove this remarkable situation? Possibly it's basic economic supply and demand. In American society a four-year degree is considered a necessity in much the same way that a car and home are. Yet less than 25% of the population has earned a bachelor's degree or equivalent. Perhaps with the additional demand for U.S. college degrees from overseas there are not enough college seats available to satisfy even the U.S. student level of demand. Or perhaps the demand at more prestigious colleges has allowed them to drive up prices and lesser schools have simply followed suit. Whatever the reason, one consequence is an explosion in the amount of student loans: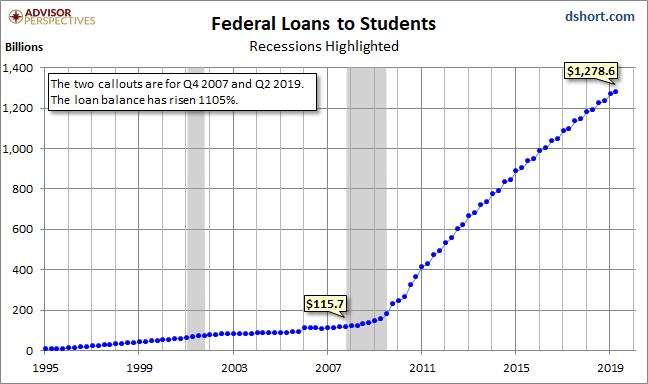 As you can see, the amount of loans provided by the federal government has soared from $115 billion in 2007 to over $1.2 trillion today. That currently represents over 50% of all assets held by the government (it was less than 20% in 2007). We have reached the point where many families and/or students are going into debt for their education to such an extent that it is seriously impacting not only their current lifestyles but their ability to fund their retirements.
Macroeconomic theory tells us that when a product or service becomes too expensive, competitors will create new lower-cost alternatives. And we are seeing some of that in the education space with the growth of online universities and classes. But the demand for traditional four-year colleges appears not to have slackened, which is a primary factor enabling prices to spiral higher and higher.
What can you do? If you can afford to pay the cost of college for your children out of your savings without sacrificing your own future, congratulations! If not, ask your student to consider the following options:
Spending the first two years at a community college. This is such a great way for an 18-year old child to figure out what kind of career he/she wants to pursue at a cost well below that of a traditional four-year university. And some of our local schools (Foothill/De Anza, for example) are ranked very highly.
Going to college overseas. A growing number of American students are attending schools in English in countries where tuition costs (not to mention housing costs) are considerably less expensive. (More on this in a later posting).
The growth in higher-level education costs has been unprecedented. Families need to carefully consider the cost/benefit tradeoff as never before.